Need for BPM
Today's corporate organization must be able to quickly adapt to changes. This means that the process must be resourced to make it possible to manage. The traditional business of the past is growing outdated: today's business cannot be composed, operated, or managed with just one resource. The relationship involving businesses such as employees, systems, customers, suppliers and partners, and the relationship between resources have become absolutely important factors for carrying out projects. The grouping of external and internal constituents of business networks is disappearing, and constituents and relations are being composed and dissolved in business units as necessary. In order to maximize interactive value through such business networks, the continuously changing business models must be separately checked, operated, and managed.
IBM BPM (Business Process Manager)
Product Overview
BPM Integrated Platform:
This is a comprehensive BPM platform that provides complete visibility and management functions for the organization's business process.
BMP exclusive software platforms are provided for process improvement and BPM life cycle governance. This Includes process visibility and analysis functions to improve business processes and is designed for optimization.
It is designed to accommodate all requests and necessities through IBM BPM when constructing BPM.
Product Features
IBM BPM offers flexibility that can meet the user's UI demands.IBM BPM is completely compatible with independent BPM products.
WebSphere Lombardi Edition (WLE)
WebSphere Process Server (WPS)
WebSphere Integration Developer (WID)
Product Structure and Components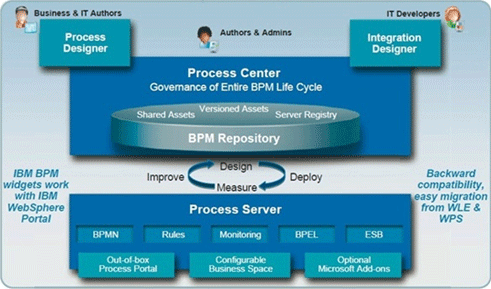 Functions and Roles per Product Components
The process center acts as a general process design environment and asset sharing and storage center. It supports/provides all process components such as BPMN and BPEL. The process center is the single central command center that manages process distribution over all process runtime environments.

The operation data warehouse (process server) provides automatic monitoring for process application programs. The user defined control information and process activities are displayed in real-time in the process status map, dashboard, and SLA.

Process optimization integrates process design development environments. "Heat maps" directly overlap this process model so it is possible to visualize process bottlenecking or rework or exception situations.