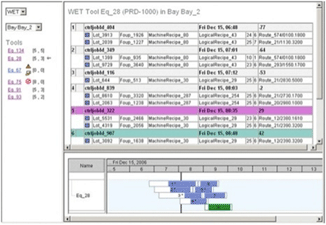 Introduction of KSTEC RTS (Real Time Scheduler)
Traditionally, optimization technologies have been applied in environments with restricted re-scheduling capacities. Despite claims that many advanced planning and scheduling (APS) software save millions of dollars, shop floor planners have difficulties in making full use of these systems. Most complaints from these users are as follows.If such an optimization plan has no relation between 5 minutes afterward and an entire day, what is the reason for generating "optimized" plans?
Typically, manufacturing environments require continuous re-scheduling due to dynamic factors as shown below.
· Change in machine status
· Usability of equipment (masks, etc.)
· WIP contents
· Lot delay
· Job priority changes, etc.
All of these events pertain to the dynamism of operation schedules. It is very difficult to divide traditional planning systems to operational modes. Such systems are also not designed to handle the many demands of shop-floor environments.

KSTEC has developed an optimization framework called RTS that brings out optimized solutions in just a few seconds over the past several years. This method has been proven to be effective for several manufacturing environments, particularly the electronics industry.

KSTEC has received the technologies of ILOG, and it has developed an RTS with a perfected package structure by using its production planning system project experience and knowhow. RTS makes development and testing simple, and it also makes customization and expansion easy. It has little technology dependency on modeling and the developer, making it painless to manage and maintain.
Applied Effects (Case)